There's something very special about an outdoor wedding—the bright blue skies, the breathtaking beauty of a sea shore, the stunning mountains, or the warmness of a garden.
Whether it's beachside, cliffside, or countryside, outdoor weddings are very special because it's as if Mother Nature is lending her beauty for your wedding day. But as gorgeous as your wedding could be, there's also a significant amount of blood, sweat, and tears that goes into planning an outdoor celebration.
A lot can happen when you "invite" nature to your wedding.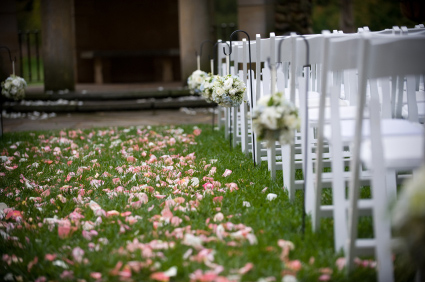 Avalon Event Rentals, the leader in party rentals in Houston, lists a few tips on how to pull off a flawless outdoor wedding affair, from beginning to its sweet end.
Choose a Meaningful, But Practical Location
 As with any wedding ceremony location, choose something that's meaningful, but also practical. Go for the backyard of your childhood home (if it's big enough for your guest list), perhaps decorated with perennials your mother nurtured throughout the year.
Consider the time of the year and which flowers are in season for your wedding. A lush field can lend a more vibrant backdrop.
Think about access to the location as well. While a remote field of wildflowers sounds romantic, it may be nearly impossible to get to for your guests, caterers, and florists. If your heart is truly set on an out-of-the-way venue, consider providing some form of transportation.
Make Your Guests Comfortable
If it's hot outside, don't leave guests feeling uncomfortable. Make sure the site is well equipped with fans and refreshing drinks. Maybe print your wedding program on a fan so guests may cool themselves.
Don't forget to include citronella candles to keep bugs at bay; tea light candles can also serve as path lights and set the romantic mood when evening falls.
Know the Rules and Get the Permits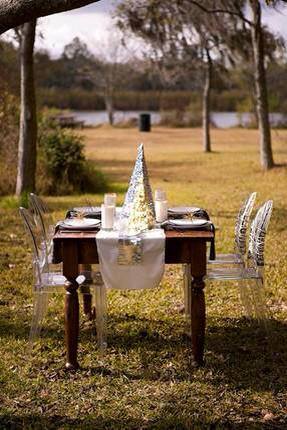 Most outdoor venues will require permits, which will come with fees. Find out what kind of rules and permits you'll need to accomplish before choosing your location.
Talk to the appropriate authorities, and ask about any restrictions, such as bans on campfires and alcohol. Ask about trash removal, torch lighting, and pre-wedding photography as well.
A bit of research could save you money and time in preparing your wedding location.
The Outdoor Wedding's No. 1 Enemy: Rain
But even with the superb location, complete permits, and comfortable guests, you can't pull off a beautiful outdoor wedding without considering one important thing: the rain.
The weather and other outside forces can change at a moment's notice, and you don't want the guests, caterers, and vendors to scramble for cover. But rain doesn't have to mean disaster for your wedding.
You just need the right tent.
Order the best wedding outdoor tent at least a week in advance; work with us to figure out the style that fits your vision and the location's spatial constraints.
We'll help you choose a tent for your big party, and one that works on your surface – whether that's sand, grass, or pavement.
Outdoor weddings are romantic and beautiful. But they're not as easy as they look. They come with some work and a few considerations. Once you pull it off, though, you're sure to get the wedding of your dreams – and maybe even a ray of sunshine.
At Avalon Event Rentals, we have everything you need to plan an unforgettable wedding. Other than tent rentals, we also rent out lighting equipment, drapes, staging, tables, and centerpieces, to name a few.
Contact us today, and we'll help bring your vision to life.